The ever-evolving security landscape means your business could be devasted with one click of a malicious email without the proper protection in place. With a CloudGen Firewall managed by our team, you get the ultimate defense – a combination of powerful hardware and software, complemented by a team of security experts using intelligent tools to provide 24×7 oversight.
CloudGen Firewall is the Ideal Security Solution
Optimize the security, performance, and availability of your networks
Centralized control makes it easy to deploy across multiple locations
Intelligent traffic regulation prioritizes critical system performance
Powerful Advanced Threat Protection and dual antivirus engines, combined with IDS/IPS, protect against malware, ransomware, and zero-day exploits
Integrated Next-Generation Security
The CloudGen Firewall is designed and built from the ground up to provide comprehensive, cloud-generation firewall capabilities. Cloud-hosted content filtering and reporting offload compute-intensive tasks to the cloud for greater resource efficiency and throughput. Based on application visibility, user-identity awareness, intrusion prevention, and centralized management, this firewall is the ideal solution for today's connected businesses. 
Regaining Control of User Activity
The CloudGen Firewall extends security coverage beyond network boundaries and makes it easy to monitor and regulate your network and everything users are doing.
Key Features - Advanced Security
Firewall – Application control and granular application enforcement; interception of SSL/TLS encrypted applications
User Identity Awareness – Supports authentication of users and enforcement of user-aware firewall rules; works with a variety of authentication methods including Wi-Fi access point vendors like Aerohive, Aruba, and Ruckus
Intrusion Detection and Prevention – Comprehensive real-time protection against exploits, threats, and vulnerabilities
Advanced Threat Protection – Dynamic analysis of malware programs and documents with embedded exploits
Malware Protection – Shields the internal network by scanning web content, emails, and file transfers
Fast Troubleshooting – Real-time information and comprehensive logging capabilities
Easy-to-read Reporting – Enables us to automatically create reports for you that fit your requirements
Comprehensive Traffic Optimization – Intelligent traffic regulation and tightly integrated Quality of Service (QoS) and link balancing capabilities
Remote Access – Browser-based SSL VPN, dedicated VPN clients, and Network Access clients; remote access app, featuring Barracuda's Zero-Touch Deployment
Managed Wise CloudGen Firewall Comparison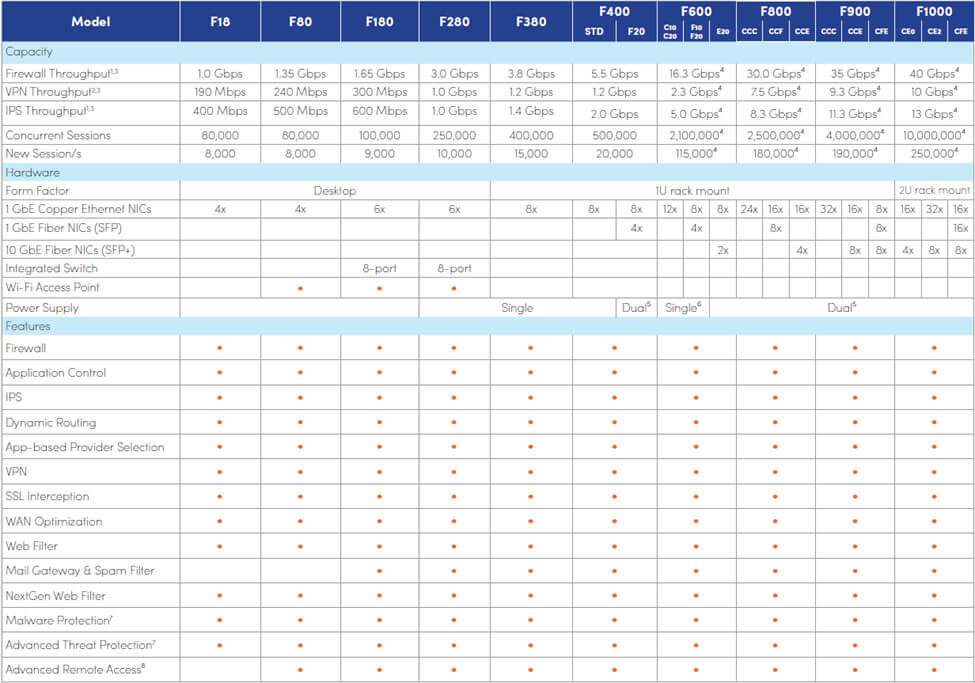 ¹ Measured with large packets (MTU1500)
² VPN throughput using AES128 NOHASH
³ Chassis throughput across multiple ports
⁴ Measured with 10GbE fiber ports
⁵ Internal dual hot swap power supply   
⁶ Internal dual hot swap power supply optional    
⁷ Including FTP, mail, and Web protocols    
⁸ SSL-VPN, personal firewall, CudaLaunch
Note: Specifications subject to change without notice.